How to take a Fireworks Photography
---
It adapts itself to a level, and please select it. This page is for the Beginners.
Rapid lesson=For be in a hurry or slightly impatience person.
Beginners=Start to take a fireworks (this page).
Advanced=Explorer class. To try for more upper grade works.
---
How to take a Fireworks Photography
-for Beginners.

2008.Ver6.0E
Produced by Kiminari Onozato All rights reserved.
English supervision, Calvin H. Seaman.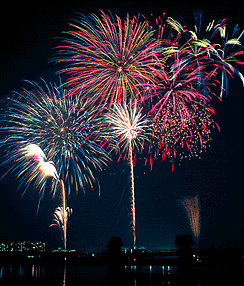 The pleasure of taking fireworks photographs

Imagine many beautiful fireworks coloring a night sky of summer. The bright, colorful, beauty disappears swiftly with a flash, and then a lingering sound is delivered to each person present.
One must think that taking photos of beautiful fireworks is a subject for all photograph enthusiasts. But many people also think that special photographic techniques are necessary, and that much training is required. But don't worry. As a matter of fact, photography of fireworks isn't so difficult.
It is clear that many photographers love taking pictures of fireworks, and display their images as dramatic evidence of their work. Difficult photography techniques are not required, and getting started is simple, but it is fair to say that fireworks photography is a deep subject which requires patience and much practice. The basic foundations of fireworks photography are actually very simple. In time, many persons who seek to improve their fireworks photographs, devise their own original photography methods. But there is much important knowledge to consider besides photographic technology and camera exposure data.
I will describe the fundamental equipment parts and photographic methods for you in this website. By following these basic guidelines, everybody may have a chance to take beautiful fireworks photographs!

---
A construction
Lesson1  What Tools are Needed?    
Lesson2  Getting Ready to Take Photographs
Lesson3  How to Operate a Camera (Basic)
Lesson4  Photography method,the application 
In conclusion,
---
Lesson1 What the tools need for it?

●A necessary tool
  
Camera   
A camera with "Bulb exposure" capability is a basic requirement. While in "Bulb mode," the camera shutter remains open as long as the button (shutter release) is pushed. The camera shutter closes only when the button is released.
Caution: Most simple "point-and-shoot" cameras do not possess this "Bulb" function. Another important requirement is the ability to manually focus the camera.
As a result, most point-and-shoot, auto-focus, cameras are not well suited for fireworks photography. A 35 mm single-lens reflex (SLR) camera (film-based or digital) is the usual "equipment" that is appropriate for beginner fireworks photography.
If you own a modern, auto-focusing, SLR camera, you must be prepared to take manual control of the focus, shutter speed, and aperture settings. Also keep in mind that some cameras consume a lot of power during long bulb exposures, so be sure to carry plenty of spare batteries.

Tripod     
It may be said that fireworks photography cannot be fully successful without a tripod. It is most desirable to use a tall, sturdy, tripod. The height of the camera on the tripod mount should ideally be in a face-level position without elevating the center post of the tripod.

Cable Release   
Camera, tripod, and a cable release. These three items are the necessary minimum equipment required to successfully take pictures of fireworks. Why a cable release, you ask? A cable release is generally used by photographers to take pictures which require a very slow shutter speed. For fireworks photography, you should generally consider a shutter speed of one second exposure time, or greater.
It is virtually unthinkable to directly "press" the shutter button with your finger during such long exposures.
Even with a tripod, image blurring will likely result if you press the button manually. Any length of cable release is acceptable but, generally speaking, a length of about 50 cm is ideal. Cable releases are usually purchased as "optional equipment," and not all cameras are equipped to accept a cable release. Your camera might require an electromagnetic release versus a mechanical release.
Please refer to the user's manual that came with your camera for specific instructions regarding cable release operations. Without these three items, you will not be able to take nice pictures of fireworks. Certainly, on the day of the fireworks display, you will not forget your camera and tripod, but be SURE to bring the cable release _ as it is an easy item to "forget!"
  
Choice of Lens   
A zoom lens is ideal for fireworks photography. Of course, many photographers will say that a fixed focal length lens will outperform a zoom lens. But the merits of a zoom lens are as follows:
First, you can get away with carrying fewer lenses in your bag. Second, the variable focal length of a zoom lens makes it possible to quickly change the framing and desired perspective of the fireworks display images.
To combine fireworks with other night view images, a 28 (or 35) to 70mm zoom lens will do nicely. If you want to take close-ups of individual fireworks, a 100mm (or longer) telephoto lens may be required.

Film  
ISO 64 -100 Negative color film or Positive (slide) color film is popular and useful. Better photographs usually result from positive film, and it teaches you to use very precise photographic techniques.
With negative film, many errors (such as bad exposures) can be corrected during the automated printing process. So in the end, you will receive a corrected print, but you will not understand the correct exposure times and spot values.

●How many rolls of film?
How many rolls of film are needed to photograph a fireworks display? It's an important question, and the answer will vary according to the duration of the show, and your individual style of shooting.
From my experience, a standard, large-scale, fireworks display will launch approximately 5000 shells, and I will typically take about 100 shots (maximum). So 4 to 6 rolls of 36-exposure film are generally enough for me. But it's always a good idea to bring extra film in case of an emergency, and for all-around peace of mind. If you run out of film during the climax scene, you will be very disappointed and frustrated. As a photographer, I cannot imagine a more terrible situation!

●Other Requirement

Flashlight      
A small flashlight is an indispensable item for checking the frame counter of remaining film, checking the lens face, confirming the exposure settings, etc. It is also useful for re-packing you camera equipment (in the dark) at the end of a fireworks show. An additional larger, brighter, flashlight may also be useful for the walk back home, or to your car.
   
Spare battery     
Today's modern cameras rely heavily on electronic control systems. Without power, they will not operate. So it is always wise to carry spare camera batteries in your bag.
   
Stroboscopic Lamp (Flash)      
A flash can be used to "include" other foreground scenes (such as audience members and yukata girls) in the frame. This is purely a personal choice to combine other scenes with your fireworks images. Simply flash the lamp during a long fireworks exposure to properly illuminate the foreground subjects.
   
Black Card       
You can use a "black card" during bulb exposures to temporarily cover the lens instead of closing the shutter each time. Simply hold the card in your hand, and move it in front of the lens (without bumping the camera!) to momentarily reduce the amount of light entering the lens (refer to Lesson 3 for more details). A "black card" can be made very easily from corrugated cardboard, black cloth, or even a black hat, if that's all you've got handy.
   
Lens cleanning tool      
A dust off "blower brush" is another handy piece of equipment to have during a photo shoot. The camera lens will often become dirty with dust and cinders during a fireworks event. Additionally, you may notice the lens "fogging" with condensation due to falling temperatures during a night shoot. So be sure to check the lens often during a fireworks display. When it happens, you should not "breathe" on the lens, as this will only produce more fogging. Instead, clean the lens gently with lens cleaning paper or a lens cloth.
   
Program booklet
Fireworks program booklets are usually available from the event management office. Sometimes, at small fireworks exhibitions, the programs are distributed free of charge. At other events, you must pay a fee for the guide booklet. But you must get one _ even if you have to pay for it! The program booklet provides the only way to figure out what sort of fireworks display to expect with each launching. By knowing what to expect next, you can adjust your camera settings and shoot with a calm frame of mind. Shooting fireworks should not be a haphazard waiting game. Instead, you should study the program and always be prepared for what is happening on the next launch.
   
●Other useful items
Depending on the situation, you may want to bring a folding chair, binoculars, rainwear, umbrella, pens, pencils, Beer (Beer?), and something to keep yourself occupied while killing time before the start of the event.
---
Top of this page
INDEX

to Lasson 2
---