Fireworks at the Closing Ceremony of '98 Winter Olympics,
Exciting Finale at NAGANO!
---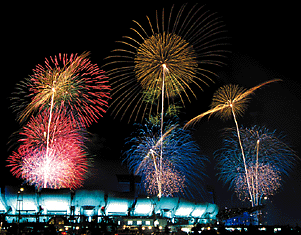 Summer: sunflower flanked by red and blue peonies.

 
 
The 1998 Olympic Winter Games are over. It was an exciting 16 days.
But this page does not report any results of the games. It only commemorates the fireworks display at the Closing Ceremony on February 22nd.
5000 shells were shot off in only 8 minutes! Did you watch that great fireworks display on TV?
  
Photo album of fireworks display
Program or Lists of shells
Arrangement of each setting(with map)
Technology of shooting
Document of the "Great Eight Minutes"
---
INDEX