How to made beautiful colors of star?
Why change color on the way?
---
Let you into the secret of color
ü@How to make various color of fireworks? Did you remember experiment "flame reaction" in chemistry class? It is that burn chemical compound include specific element, flame up it with peculiar color of each element. A color of fireworks apply this "flame reaction".
The star of fireworks can been done by mixing chiefly three powder. It is a combustion material which promotes the oxidant and combustion by which the medicine and oxygen by which the color is put out are supplied.

Red : Strontium carbonate.
Green : Barium nitrate.
Yellow : Calcium carbonate.
Blue : Copper oxide.
Silver : Aluminum.
This is an example of chemicals as a color former.
Recent stars show a tendency to more brighter than usual by using magnesium's etc. It has been achieved by mixing magnesium's etc,slight neutral tints like difficult pink and purple, etc. "Trail=Hiki" used for chrysanthemum-star puts out a little dark orange when charcoal burns by chiefly using black gunpowder.

---
Why changing color?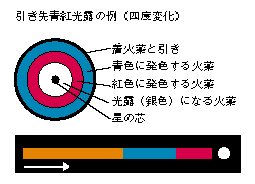 Changing color of star on the way is original technology(Changing color star) of the Japanese fireworks. This change based on structure of changing color star like left figure. It is concentric sphere consist of some layers of powder which burn another color each other. This type star, we call "Kakeboshi=multi coated star". Put standard materials like a rape seed or ceramics grain in center, and coat powder over it again and again in due order. This coatinng work perform by "Star-rolling machine" at present. This machine figuratively speaking "rolling caldron". Spread and dry up them over drying table under the sun whenever one powder layer grow little thick. Dry them fill, and coat powder again. And grow each stars little by little up to finally size. Repeat these works, It takes about 17 days lowest to finish twenty milimeters across petal stars(under left photo) use for twelve inches round shell.üĘSee "Making stars"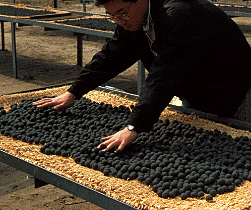 It need homogeneous completion on size and quarlity of each manufactured stars for change color all together,and for going out all together. There are some method of making star. Multi corted star take great deal of time. It is fully work in a fashion unique to Japanese. Pressed star is popular in any foreign fireworks. It consist of one kind of powder. It makes easier than coated star and it has steadied quality, but use only one kind of powder, so only single color star.

---
Back to Top
INDEX